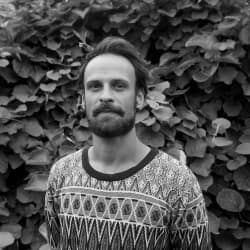 Parcours Arthur Dumas
acting and stage writing
---
Arthur discovered theater when he was a teenager, playing with the Sycomore Theater Group. He quickly felt passionate about dancing and acting and after he graduated from highschool, he chose to train in a school for actors. To improve his training, he went to an intensive class of contemporary dance. Then, he entered the EDT91, an intensive training for actors. He then worked as an actor for several years with different companies (En attendant, La Cabine Leslie…). He made his debut as a writer and stage director with La Cabine Leslie and the project "Public Absurdities - looking for ALICE", a short play inspired by the Lewis Caroll "Alice in Wonderland". 
He remains very interested in physical theater, acting and dancing and he chose to deepen his research by going back to training. This time, he enters the International School Jacques Lecoq, in Paris. The school is about training actors to creation and consider them as stage writers. After graduating, he co-founded the British Klump Company and the Maltese "Teatru Triptuku. With them, he dives back into writing and creates 4 original plays. 
In January 2019, he entered the Chorus of Younes in "F… Country", thus becoming a member of the company Les Papavéracées.